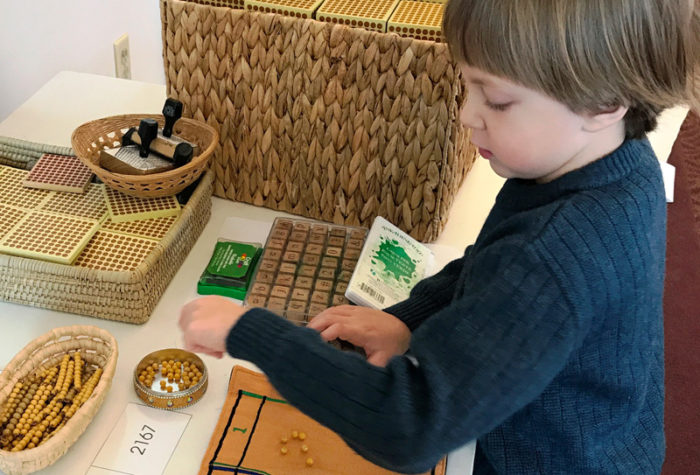 To provide each child with a safe, carefully planned and stimulating environment based on the philosophy of Dr. Maria Montessori.
To help each child in the development of the fundamental habits, skills and ideas which are essential to a lifetime of learning and thinking.
To guide every child in reaching his or her intellectual, social and emotional potential within a nurturing, respectful and enriched learning community.
It is our goal to encourage and foster a curiosity, initiative, persistence and concentration, while assisting parents in the modeling of the Montessori Philosophy at home.
Practical Life- Real Life Skills
The child develops fine motor skills and eye-hand coordination with activities in pouring, scooping, tonging, tweezing, polishing, folding, stringing/sewing, actual food preparation and flower arranging.
There are no better words to hear… "I can do it myself."
The Sensorial Area-Exploration
Montessori materials are pleasing to the senses. The materials encourage exploration and discovery. This area enables the child to order, classify, match and grade relating to length, width, diameter, sound, color, pitch and taste. This provides the foundation for the development of memory, reasoning and a creative imagination.
Math-Concrete to Abstract
This area makes use of unique, hands-on Montessori materials. Children are given the opportunity to explore mathematics from the concrete to the abstract, making math enjoyable and understandable. Concepts of quantity, number, symbol, sequence and operations build on each other in incremental difficulty as a natural progression to understanding.
Language-Rich Vocabulary to Writing
Throughout the entire Montessori environment, a child is hearing rich language. They are learning the names of geometric shapes, artists, parts of animals & plants, geography, parts of speech and so much more! There is wonderful poetry, storytelling, songs and our unique Literacy Bag Program. Children are introduced to letter sounds using sandpaper letters. This progresses to the desire to want to read and write.
Science and Culture-Connecting to the World
In Montessori, there is a true connection between the indoor and outdoor world. Outside experiences and exploration are easily connected to the child's indoor activities that expose them to geography, history, botany, animal classes, physical and natural sciences.
Our "Hands on Nature", Director, offers outdoor nature activities and classes.
Music, Art and Yoga- Self Expression
The arts are viewed as integral components in the Montessori Curriculum.
They are part of the everyday activities of the children. Art is open-ended, appreciating the process rather than the product. Every child's art is their creation.
Our, "Artist in Residence," offers wonderful multi-cultural music, various instruments and African drumming. Singing, dancing and instruments are in the classroom every day.
Namaste, from our Yoga Instructor. Classes are offered in the Fall & Spring so we can have yoga outdoors on our beautiful school grounds.
STEAM – Science, Technology, Engineering, Art, Math
STEAM has been integrated into the Montessori Curriculum for over 100 years.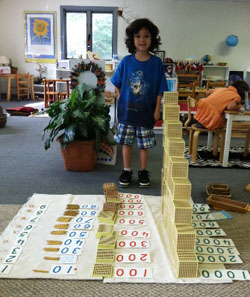 The NMS staff are highly qualified Early Childhood Developmental Specialists who have been carefully selected based on their knowledge, experience, and understanding of children. The teachers are skillful observers and therefore know each child's developmental progress. A Montessori Certification is a Graduate Level Training Program that is extensive, intense and proven successful by over 100 years of scientific observation and research.
Children are free to work at their own pace with materials they have chose.  The teacher relies on his/her own observations of the children to determine which new activities and material may be introduced to challenge and ensure success for the child.  The aim is to encourage active learning.
A child's fine motor skills, care of the environment, care of self, as well as grace and courtesy develop through activities in daily living. The sensorial materials develop the skills of observation in every sense, develop rich vocabulary, as well as an appreciation of the materials used. Language develops through many materials in the classroom. Stories, songs, poems, the vocabulary used in geography and science, and the tactile sandpaper letters all contribute to a multi-faceted approach to learning.
Math concepts initiate with concrete materials including sorting, counting and problem solving. Eventually, children move on to use the many math materials available in our classrooms.
Nashoba Montessori was quite simply one of the best early decisions that I made to start off my 3 children in an extremely nurturing and educational environment. I fully credit their love of learning, curiosity, independence and confidence in their abilities to their start to NMS".
-Kelly Q.